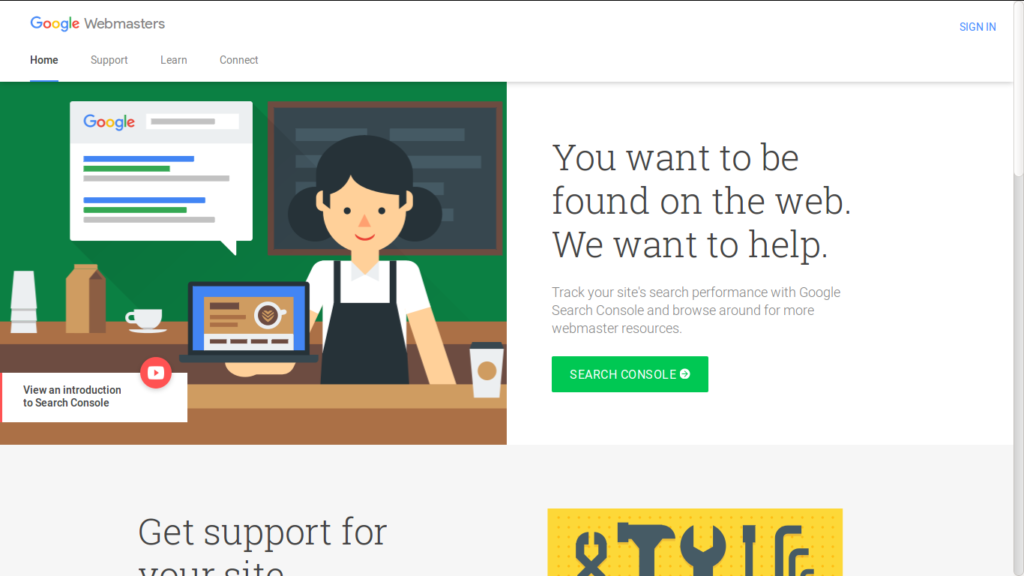 Google Webmasters Tools is a free service by Google. You can access the service using your Google account.
Click on the Add Property button & add the complete web address/URL of your food blog website.
Verify the ownership of the website by uploading the verification file or use any of the alternative methods.
Google recommends using the verification HTML file upload method to verify your website ownership.

Download the HTML verification file.
Upload the file to the primary folder of your website. To do this, you will have to use the FTP method or use cPanel dashboard of your hosting.
For FTP, use any FTP client such as Filezilla and access your website with the FTP details provided by your web hosting provider. Access the WWW or PUBLIC_HTML or the main public folder of your website. Upload the verification file.
For cPanel, you can access the cPanel dashboard (http://yourwebsiteaddress.com/cpanel) using the username/password provided by your web host. Now, locate the File Manager button and click on it. Pick "Web Root (public_html/www)" option or the relevant domain from the "Document Root For" option. Now upload the verification file using the File Manager function that is now open.
Confirm successful upload by visiting the verification URL in your browser.
Click Verify below.
To stay verified, don't remove the HTML file, even after verification succeeds.

I recommend using the domain registrar (domain name provide) option as it requires you to just log in to your domain registrar using the username & password associated with the domain registrar account.
If the domain registrar verification method fails to confirm your domain ownership automatically, use the DNS text record option. Here's how to add the DNS record for your domain verification with Godaddy.
Verify your domain in Google Webmasters by adding DNS Text Record

Follow the steps below to create a DNS (Domain Name System) record that proves to Google that you own the domain.

Log in to your account for foodbloggingguide.com at www.godaddy.com by clicking the My Account tab.
Under the Domains header, click the Launch button in the row for your domain name, foodbloggingguide.com.
Under the DNS Manager header, click Launch.
In the TXT (Text) section, click Quick Add.
In the Host field, enter @.
In the TXT Value field, copy and paste the following unique security token:
Leave the TTL drop-down as the default selection.
At the top or the bottom of the page, click the Save Zone File button.
Click OK in the pop-up.


Your DNS settings can take up to 24 hours to get reflected through the Internet. So, if the verification doesn't happen immediately, revisit the status after some time.

Note: adding this record won't affect your mail flow or any other feature in any way.
Once you have verified your website in Google Webmasters Tools, you can access loads of Google Webmasters Tools features.
From the dashboard of Google Webmasters Tools, you can access sections such as Search Queries, Links to Your Site, Crawl Errors, Keywords, and Sitemaps. Clicking on any of these will open the respective section.
Search Queries
The Search Queries section shows the keywords that users searched for reaching your site. You can use the search keywords to optimize your website content with those keywords. It can also be a good source of inspiration for new posts. Add more content to the keywords that bring the bulk of traffic to your website.
Backlinks
Google Webmaster Tools also shows the list of websites that link to your blog website. Here you can see where your website backlinks (internal and external) come from and the pages getting the links. Please note that this list of backlinks is in no way a comprehensive one. The tool might not be able to detect & list lots of backlinks, but the list can still give you a good idea.
Remove/Disavow Links
Links are not always good. Sometimes these can be bad for your website if the website linking to your site is malicious or of bad nature, eg: mature websites or gammbling sites or drugs websites. Google Webmasters allows you to reject or disavow such backlinks. Go to the Links section to verify what websites link to your blog. If you deem some backlinks harmful, you need to tell Google to ignore them. Links from bad sites can hurt your rankings, so if you want to get rid of them, follow the instructions in this article by Google Support.
Sitemap
Google Webmasters includes the option of adding your sitemap, which in turn gets crawled and indexed in Google. If you have a blog, it is highly recommended you submit your sitemap using Google Webmasters for the best results and easy indexing by Google. (PS: If you don't have a sitemap for your WordPress blog, learn how to add a sitemap to your WordPress website.)
Crawl Errors
The Crawl Errors section shows the errors Google bot encountered on your site. This data is useful to track how your website is crawled and indexed by Google. If Google search bots face any trouble in indexing your website, it will be shown in this section. Use this information to remove any issues creating obstacles in proper indexing of your blog website by Google.
Keywords
The Keywords section also shows keywords that Google finds on your website. It is different from the search keywords in the fact that the keywords here are discovered on your blog rather than the keywords used to reach your site. If the two lists (of search keywords visitors type to reach your blog and the keywords Google finds on your site) are very different, you are not optimizing your website with content that your website visitors are looking for. Add content to ensure that there are articles & blog posts on your website that users type in Google search keywords. It will help keep your blog visitors engaged by providing them the content and information they want.
Structured Data
For food blogs, it is very important to use the right Scheme data with recipes. Most good WordPress Recipe plugins (such as our own Recipebox WP Plugin) will automatically add all the necessary Schema data to ensure that search engines discover the recipe in its complete format, including name of recipes, type of cusine, cooking time, ingredients, cooking steps, etc.
Use Google Webmasters' Search Appearance -> Structured Data section to check all the Shema data being used on your website and ensure that the recipe tags are functioning properly.
Robots.txt & Advanced Stuff
Google Webmasters Tools provide you a lot of advanced stuff such as adding a robot.txt file to allow or restrict access to search engine bots to some webpages or folders. For instance, you might want to keep the contents of a folder private.
You can also set the preferred domain syntax (i.e. with or without www) to be displayed in search results. Google Webmasters Tools also helps with website security, provides you information about any possible infection of your blog with malware.
Google Webmaster Tools is an invaluable instrument for SEO and proper management of your website.