WordPress is a very flexible website content management system (CMS). Though built originally as a blogging platform, it is used for a lot of other websites such as e-commerrce and membership. How? The answer is -- WordPress plugins.
There are plenty of plugins for WordPress that have been developed by the WordPress community to extend the features and functionalities of the CMS. You can browse through the whole gamut of WP plug-ins at https://wordpress.org/plugins/. You can also find the list of these plugins in the official WordPress repository via your WordPress Dashboard.
Installing a WordPress plug-in on your WordPress blog
Let's learn how to add a plugin to our WordPress website to extend the features and functions to make our website  more enriching and lively.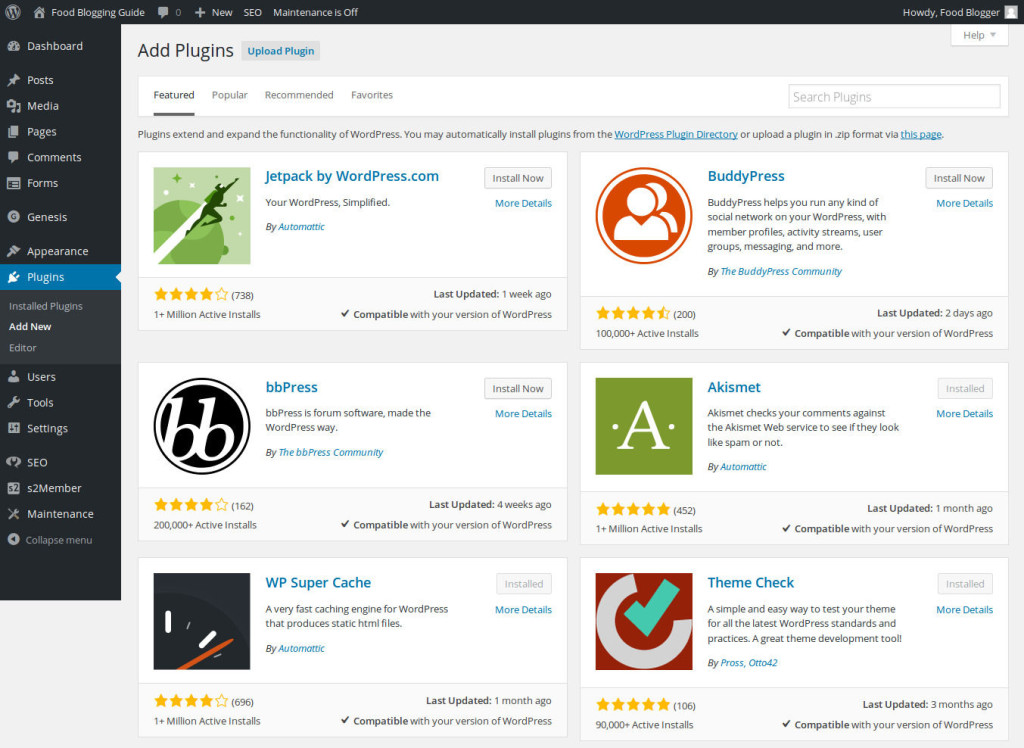 Explore for free WordPress plugins at http://wordpress.org/plugins/.
Log in to the WordPress Dashboard of your website.
Go to the Plugins

→

Add New page via the Navigation menu in the sidebar.
Browse through the list of plugins and search for plugins with desired features using keywords.
Once you find the suitable plugin, click on the Install button and then activate the plugin.
To view the installed plugins, go to the Plugins

→

Installed Plugins. This page shows the plugins already installed and available for use. You can activate plugins from here as well.
You can also upload a WordPress plugin available in the ZIP folder format. You can find the "Upload Plugin" link at the top of the page on the Plugins

→

Add New page.
Recommended WordPress plug-ins
WordPress has a large number of plugins to add features and functions to the world's most popular website CMS. Here are a few of the best plug-ins that you should have installed on your website when starting.
Recipe plugins for WordPress

For adding recipes in an elegant manner, there are plenty of good plugins for WordPress. You can download & use our own WP recipe plugin -- RecipeBox, which provides an easy, clutter-free way of adding SEO-optimized recipes easily. For other recommended recipe plug-ins, we will discuss in detail in another article.

WordPress out of the box is already technically quite a good platform for SEO. Yoast SEO improves the SEO fatures of your WordPress blog. It forces you to choose a focus keyword when you're writing your articles, and then makes sure you use that focus keyword everywhere.
Source: https://wordpress.org/plugins/wordpress-seo/

A very fast caching engine for WordPress that produces static html files. WordPress websites are dynamic, which means the content is assembled each time an article/webpage is requested. If there are too many users accessing the website at one time, the number of requests can slow down your web server. Caching is the process of generating static webpages from dynamic content to significantly reduce the number of requests handled by the webserver. Website caching allows your webserver to handle more visitors/users concurrently.
Source: https://wordpress.org/plugins/wp-super-cache/

Create forms and manage submissions easily with a simple drag and drop interface. Contact forms, subscription forms, or any other form for WordPress. I like Ninja Form because of the ease. It also saves the received contact messages. So, you can view them at anytime even if you accidentally delete in your email.
Ninja Forms is the easiest way to build any form you need for your WordPress website. No longer mess with code or worry about made-up limitations. Create the form you want, when you want with a simple drag and drop interface provided by the very powerful Ninja Forms framework.
Source: https://wordpress.org/plugins/ninja-forms/

Say Goodbye to comment spam on your WorddPress blog or website. Antispam Bee blocks spam comments and trackbacks effectively and without captchas. It is free of charge, ad-free and compliant with European data privacy standards.
Source: https://wordpress.org/plugins/antispam-bee/

Shrink, beautify, track, manage and share any URL on or off of your WordPress website. Create links that look how you want using your own domain name! This plugin (or any alternative) is a must for those promoting affiliate links and products.
For instance, you can convert an ugly affiliate link such as http://xyz.com/aff?id=7897&prod=ugly-link&clean=none to http:/yourdomainname.com/affiliate-product
Source: https://wordpress.org/plugins/pretty-link/