Learn How to Start A Successful Food Blog Business | Start A Food Blog & Earn Money Blogging @ Food Blogging Course, Tutorials & Tips
Learn the Trade
Easy-to-understand articles & videos made for beginners to intermediate food bloggers. Know the tips & tricks of successful bloggers for the beginning.
Connect & Network
Don't remain isolated. Meet fellow bloggers and join the success network of a powerful group of like-minded people helping each other.
Ask Questions
Get your food blogging questions and doubts answered by the Food Blogging Guide team or fellow bloggers. You don't need to struggle with Google search.
Easy Membership
Join or leave, at your choice. You can cancel your membership anytime. No questions asked.

Food Blog Theme
As a member of Food Blogging Guide, you will have free access to an exclusive, SEO-optimized WordPress theme developed for food bloggers.
Recipe Plugin
Get access to the exclusive Recipe Plugin for WordPress. Showcase your recipes in style with all Schema.org settings for best exposure!
Food Blog Help Desk
Need help with your food blog. Ask for individual assistance with setting up websites, blog optimization or fixing any issue with the blog.
No Tech Jargons
All our tutorials are written in simple English, without any technical terms. You will find it easier than cooking!
Rank & Grow Your Food Blog
Learn from bloggers and SEO mavericks with 3-11 years of experience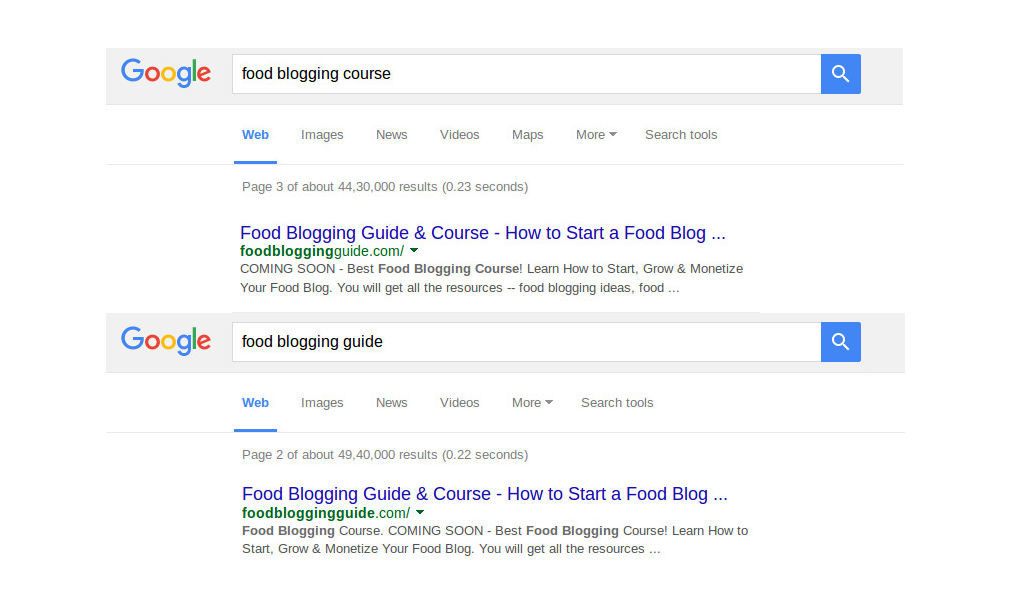 Our website Food Blogging Guide started to rank in Google with just the "Coming Soon" page. If a new website with no content can rank in Google with 5-6 Million search results, do you still doubt our competence in ranking websites and generating free traffic.
At Food Blogging Guide, our objective is to provide you a comprehensive food blogging course with all the information and resources that you need to start a successful food blog. We will make you a Food Blogger Pro (professional, nothing amateurish about us). You will have a range of tutorials (many with videos) to get your own professional food blog ready with the best and optimum settings within a few hours. You will also get an exclusive, SEO-optimized WordPress theme (using Genesis theme framework) for your food blog. That's not all. You will also have access to an exclusive recipe plugin to showcase your recipes in style and get search engine rankings instantly. You will also learn how to create content based on existing demand.

WordPress Theme & Plugin: XtraMag is an exclusive WordPress theme built for members of Food Blogging Guide. It is a child theme of the Genesis framework theme. You can create your own custom design with just a few clicks and drag-drop of widgets with the numerous handy widget areas supported by the theme for design flexibility. It is highly optimized for SEO & also incorporates the best Schema.org for quick ranking in Google. You get access to the XtraMag WordPress theme as well as the Genesis theme framework, both of which are available with the GPL license with freedom to modify/use the WP themes on as many websites you want. Check demo of the XtraMag WordPress theme. Exclusive RecipeBox WordPress plugin for displaying your recipes in style. You can add images, videos and audio apart from easily adding ingredients and instructions. The RecipeBox plugin is also created with SEO in mind and supports Schema.org recipe micro data for expanding the reach of your recipes through search engines.
What's @ Food Blogging Guide Course?
Food Blogging Tutorials, Ideas, Keyword Research & SEO Tips
Building Your Food Blog
How to choose the right domain name?
How to register a domain name (web address) for your food blog?
How to choose the best and affordable web hosting for your food blog?
How to create and use your own branded email address?
How to create your food blog with WordPress CMS?
How to choose the best structure for your blog's permalinks (URL structure)?
Adding Quality Content
How to add content - write blogposts with recipes in your food blog?
How to edit & optimize images for your food blog? How to add images in your blogposts?
How to add links (hyperlinks) to other blogs, your own articles/posts with optimum settings?
How to use WordPress Categories & Tags to organize your food blog content?
How to research topics (keyword research) for your food blog articles?
How to find free recipes and content for your food blog?
How to find free, high-quality images for your website?
Website Optimization & Tracking
What is a sitemap? How to add a sitemap to your food blog?
How to set up a WordPress caching plugin and CDN (content delivery network) to handle massive website traffic?
How to add Google Analytics to track your website traffic?
How to use Google Webmasters tools for website monitoring?
Best WordPress themes & recipe plugins for your food blog
SEO, Monetization & Others
Basic search engine optimization (SEO) tips
How to get listed by search engines (Google), improve search ranking and traffic?
How to build backlinks and promote your food blog?
Generating income from advertisements, sponsorships & affiliate marketing
Free Photoshop alternative & web tools to edit and manipulate recipe images for your food blog
How to back up your website/blog to keep your hard work safe?
How to Start a Food Blog & Become a Full-Time Food Blogger
Here you will learn the following: How to Start a Food Blog | How to Create a Food Blog for Free | How to Create a Food Blog on WordPress | How to Create a Food Blog Website | Make your Own Food Blog | How do I Start a Food Blog | Starting a Cooking Blog | How To Start A Food Blog And Make Money | How To Start A Successful Food Blog | How To | Start A Blog | Start Cooking Blog | How To Start A Food Critic Blog | How To Start A Food Blog Business | How To Start A Food Blog For Free | How To Start A Food Critic Blog | How To Start A Food Blog For Free | How Do I Start A Food Blog | Should I Start A Food Blog | I Want To Start A Food Blog | Food Blog Business Plan | How To Start A Food Instagram