Sitemaps make it easy for search engine spiders or crawlers to see the complete structure of your site and retrieve it more efficiently. If you have a website or blog, you must add a sitemap to it. WordPress has some easy-to-use plugins to add sitemaps to your blog/website. A sitemap is simply a list of the webpages, articles, posts, images, etc on your website or blog.
We recommend using the Sitemap feature of Yoast SEO WordPress plugin as it works for both SEO and adding a sitemap. If you are using a different SEO plugin, you can use Google XML Sitemap plugin for adding a sitemap.
Tip: Click on the XML Sitemap link that Yoast SEO (URL for which is http://www.yourwebsiteaddress.com/sitemap_index.xml) or Google XML Sitemap (URL for which is http://www.yourwebsiteaddress/sitemap.xml) shows you. Copy the URL web address and add it to your website's header or footer menu with Sitemap as the anchor text. This will facilitate discovery of your website sitemap.
Add Sitemap With Yoast SEO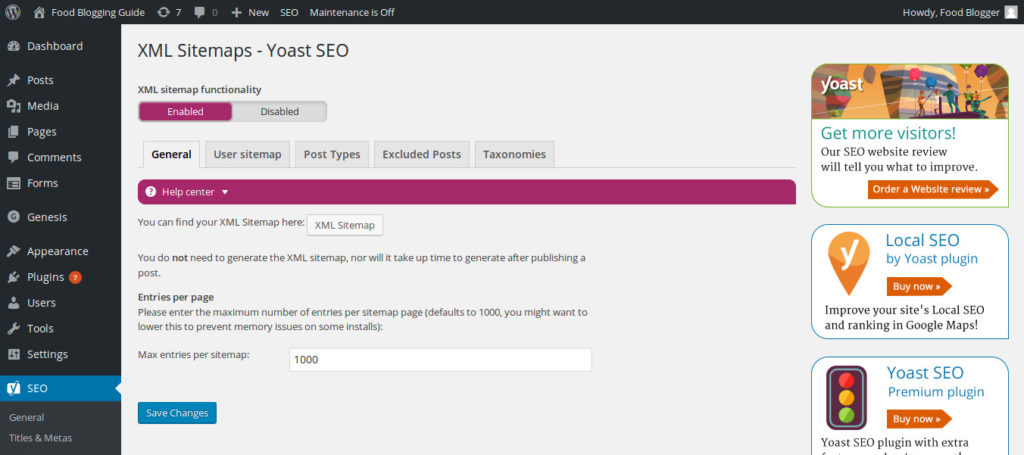 Yoast SEO plugin has an advanced XML Sitemaps functionality. You just have to check the box for showing permalink. It automatically creates XML sitemaps and notifies Google & Bing of the sitemap's existence. These XML sitemaps include the images in your posts & pages too, so that your images may be found better in the search engines too. (PS: You can learn how to properly set up WordPress SEO using Yoast SEO WordPress plugin here.)
Web: https://wordpress.org/plugins/wordpress-seo/
Google XML Sitemaps

This WordPress plugin generates an XML sitemap which helps search engines such as Google, Bing, Yahoo and Ask.com to better index your blog. The plugin supports all kinds of WordPress generated pages as well as custom URLs. Additionally, it notifies all major search engines every time you publish new content.
Web: https://wordpress.org/plugins/google-sitemap-generator/